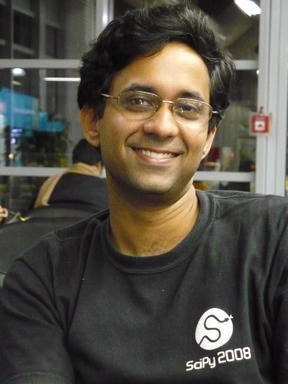 Welcome to my home page! I'm a member of the faculty at the department of aerospace engineering, IIT Bombay. I am an alumnus of the department of aerospace engineering, IIT Madras.
My research interests include vortex methods, particle methods for computational fluid dynamics, scientific computing and applied scientific data visualization. I'm an advocate of Free and Open Source software and in my spare time develop some free/open software. I blog very occasionally. In 2011, I helped start Enthought India. I am currently a director of the company.
News
17 September, 2017: PySPH version 1.0a5 has been released.
2-3 September, 2017: keynote at PyData Delhi 2017, New Delhi, India.
29th August, 2017: Departmental award for excellence in teaching for the year 2017 conferred by IIT Bombay.
10th - 17th July, 2017: co-chairing the SciPy 2017 conference in Austin, Texas, USA.
29th - 30th June, 2017: 2 day VTK and Mayavi course at the EPSRC center for doctoral training for the Next Generation Computational Modelling at the University of Southampton, UK.
April 2017: received the D. P. Joshi Award for Excellence in Teaching for the year 2017 from the Department of Aerospace Engineering, IIT Bombay. Thank you students!
Internships
Please see the internships page for more information on internship opportunities.
---
Contact details
Prabhu Ramachandran
Department of Aerospace Engineering,
IIT Bombay, Mumbai,
INDIA - 400 076
Phone: +91 22 2576 7121
Fax (departmental): +91 22 2572 2602
Fax (institute): +91 22 2572 3480
Email
prabhu [at] aero . iitb . ac . in